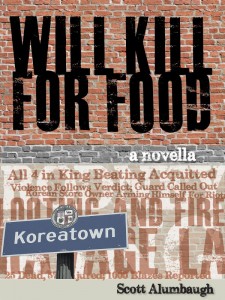 This morning my novella, Will Kill for Food, was accepted by JukePop for online publishing. The short story (no pun there) is that I'd like to ask anyone who's interested to go here to read the first chapter. If you like it, you might go further and join the site to give the story a + vote, add the story to your bookshelf, and continue reading chapters as I post them in the upcoming weeks. That would help me win the contest and get the novella published on paper.
The longer story is that JukePop and Black Hill Press are collaborating on a contest of sorts. Black Hill Press is going to publish three top novellas posted on JukePop as part of a Summer Writing Project . The selection will be based on reader reaction: how many readers give it a + vote, add it to their bookshelves, and read through to the end.
The fuller story is that JukePop and Black Hill Press focus on two non-standard writing forms: serials and novellas, respectively. JukePop publishes serials online at their website.  Readers get to vote on stories, one chapter at a time, and comment on them. Authors get feedback which they can use to alter the existing chapters or to help guide them in subsequent chapters. Black Hill Press is a collective dedicating to publishing novellas. I invite you to check out JukePop and Black Hill Press. I think they're doing interesting things.
Even without the contest, I am glad I stumbled on these two resources. Will Kill for Food runs about 17k words. Far too long to submit as a short story, and about 70k words short of a novel. I could edit it down, or fill it out. But I like the story at its present length. I also think it will be interesting to publish it over time (one chapter per week for eight weeks). I've ordered a couple of novellas from Black Hill press, and I'm still poking around JukePop reading first chapters (of all the non-fantasy, YA books, anyway).
So we'll see.