Facing the Wall
Mile 516.8 to Mile 576.5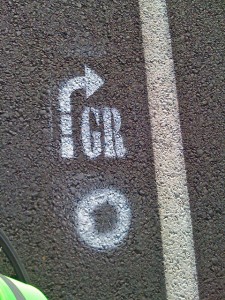 I was up with the alarm, dressed, packed, and back up the street to Susanville control by 4:30. There were still a few riders hanging around when I arrived, though as I suspected, most who had spent the night left already.
I left my drop bag and went searching for a large breakfast. The volunteers looked exhausted. Everyone, in fact, looked exhausted. I'm sure I didn't look any better. I couldn't find anything substantial for breakfast. I'm not sure if I missed the rush or if there wasn't much to begin with. I grabbed the last half bowl of cereal I could find and ate some fruit. There was plenty of dinner left over from the night before, but cold spaghetti didn't sound so good. So I ate what I could, hoping it'd be enough.
I had a text from Rick: "This is the part we designed the bike for; the bike will take care of you; trust the bike." I replied that I knew that, and that it was taking care of me. Probably a weird exchange to anyone else. But we got it.
It was around 4:45am or so. Some light in the eastern sky, but not enough to read by once I got outside. So I read my cue sheet under the lights inside the control and memorized the first couple of turns. Then I got back on my bike and started to navigate my way back to Janesville. It wasn't very difficult, especially if I kept my eyes out for the route markers painted on the road. These aren't always easy to find, and sometimes they are closer to the turn than others. Times like this " when you're tired, the light is changing, and you really don 't know the country " it's very easy to second-guess your choices. As it turns out, I followed the course perfectly. But I did stop a few times, wondering if I would have to retrace my route.
A word about route markings here. All of the advanced materials for this ride warned that there would be no course markings because we couldn't get permission to paint on the pavement. I know it's always a problem for organized rides, as they have to negotiate with each local authority. Then one day on a weekday ride, I found out that Larry Burdick and Dan Barcellos (two regular Davis Bike Club weekday riders) were planning to take two days to paint the route. I asked Larry how they managed to get permission. I never did get an answer. Larry doesn't always do things by the books.  (Here is another example of road markings at Grasshopper from Lois Springsteen.)
I slowly worked my way south to Janesville. Not only because I wasn't sure of the way, but also because I knew the toughest climb of the course was just ahead. I wanted to be warmed up, but not worn out in the least, before I climbed back over the Sierra Nevada Mountains.
Janesville Grade is one of those roads that just has no reason to exist. The Eastern Sierra is a wall with very few cracks for passes. Janesville Grade might lead to a pass, but it's really hard to tell. The overall grade has a relatively easy average incline of 8%, which isn't too bad. But a good part of that is 12-15%, and it tops out in one section at 19%. All told, the steepest part climbs 2300 feet in five miles. Not the worst in the world, but let's face it: it's a steep fucking hill. Especially coming at around Mile 525 of a 750-mile ride.
My plan was to take it easy, walk if necessary, but in any case, save some energy for the remaining 200 miles of the ride. I stopped at the bottom to get things in order. I had full bottles ready to drink, ate a granola bar of some type, and put in the iPod hoping to distract myself from how long it would take to climb. The sun was peeking over the hills to the east now. It was a beautiful morning. Really, I couldn't have asked for better conditions.  (Here are a few pictures of Janeseville Grade from Jun Sato.)
While I was stopped, three people passed me and headed up the hill. I didn't want to chase them, but they would be good indicators by which I could measure my progress. I took one last look at the hills to the east and the rising sun. Finally, there was nothing to do but to do it.
Things started out well enough, Nice tunes, nice morning. The first hill was steep, but I could see that it would level a little about 100 yards up. The riders ahead stayed ahead, and I just kept it in low, monitoring my breathing, looking at the houses (which all seemed to be labeled as ranches for some reason), and enjoying the warming sun.
As the grade steepened, I started to think about walking. (For those of you who understand these things, I had a triple chainring and was turning a 30 – 27 combination). Further up, I saw two riders walking. It turned out to be the two guys I had crossed paths with on the way from Adin the previous evening. I decided to watch them, and if they were walking faster than I could ride, I would walk. I steadily gained on them, so I kept on pedaling.
Soon after, I passed one of the three riders who passed me at the bottom of the hill. For the first time, I noticed he was on a fixed gear bike. (A fixed gear bike has one speed, not thirty as mine does. Also, a fixed gear bike doesn't allow coasting; if the rear wheel is turning, so are the pedals.) He had tennis shoes on his aero bars in case he had to walk, but he was chugging up the grade fine so far.
A little further up, the grade steepened to its worst pitch. I was going around 3mph now, even when I was standing on the pedals. The bike felt more like a Stair Master as I mashed the pedals down to keep going. I didn't really feel strong enough to keep pushing as hard as I needed to in order to go fast enough to keep my balance, so I thought again about walking. Just then, a second rider who had passed me at the bottom of the hill started walking, and I gained on him. Better to ride and get this over with sooner, I thought.
Then, a really stupid thought entered my head. I knew that once this was over and I was back riding with my regular weekday group, they would ask three questions about the ride: Did you finish?; What was your time?; and Did you have to walk up Janesville Grade? And there was something about knowing that would be a question that made me resist getting off the bike. So when I couldn't keep the speed up to balance any longer, I started zig-zagging across the road. Back and forth, back and forth, keeping the pedals turning. I was able to sit and pedal which made my rate of climb more sustainable. I noticed that I was still pulling ahead of the walkers, so I guessed this wasn't a completely stupid thing to do.
After a time, I got past the steepest part and back down to the under-12% grade where I could pedal in a straight line. I was thinking about making it up the grade in this heavy-ass steel bike, and thinking that Rick was correct again. The gearing for the bike was perfect: any higher gearing and I wouldn't have made it; any lower and it would have been wasted capacity. The bike was taking care of me.
I'm not exactly sure how long it took me to get to the top of the grade. Over an hour, certainly, to ride those 9 miles. Maybe two hours. But it really didn't matter at the time. The point was that I made it, that I wasn't exhausted, and that Boulder Creek control was somewhere not far ahead.  Or so I thought.
Once over the top, I noticed two things.
The first was that it was really, really cold. Like low-30s cold. I rode it out as long as I could, then stopped in a patch of sun to put on whatever clothes I could. One by one, all the riders I saw ended up doing the same. Except the fixed gear rider. He passed me while I was stopped and rode the entire way in a jersey and shorts. Incredible. At the rest stop further up, another rider complained about the lack of trash on the road. In cold weather, riders will stick something under their vest " a newspaper, bag, anything available " to block the wind and keep them warmer. He found himself cursing the fact that there weren't more litterbugs in the area.
The second thing I noticed, and which became more apparent and frustrating with time, was that Boulder Creek was quite a way farther from the summit than I thought. Fifteen fucking miles or something. This turned into one of those nosebleed sections like the road from Janesville to Susanville. Just another long stretch designed to grind riders down. I would like to talk about how beautiful the stretch was, how the pavement was white from the granite used to make it, how Antelope Lake appeared glistening through the trees in the clear alpine air, etc. But I really didn't care. It was just that much more scenery keeping me away from a rest and some food, and it just pissed me off.
By the time I arrived at Boulder Creek, I was bordering on bonking again. The climb, the elevation, and the lack of a decent breakfast all threatened to take me down. Boulder Creek was a water stop, not a full-fledged rest area, so there was not a great deal of food here. I foraged whatever I could. I remember eating a banana and a lot of Wheat Thins. Jim Skeen was still working the stop, still awake, and outwardly apologetic about not being quite all there.  (Here is a picture of Jim and me from Peter Norris.)  He said a stream of riders had come in through the night, and neither he nor Peter, the other volunteer, ever got more than 20 minutes of sleep. I stood in the sun to get warm, then wrapped up in a blanket and sat for a while to get warmer.
After a while, Jim nudged me along, saying he hated to say it, but I had better get going before it got too hot further down the road. He was right, so I moved on. I was really looking forward to the next stretch anyway. I remembered struggling up Indian Creek Canyon Tuesday morning. Now it was Thursday morning, a bit earlier in the day maybe, but if the road was steep coming up, it must be steep going down.
Wrong. I had to pedal most of the way down the road. Now I was really getting angry. It wasn't until the last couple of miles of this nine-mile canyon that I was able to coast and get some real speed. And even then, there were little rocks on the road here and there that had slid down, so I had to be careful. The end result was not a very restful ride down from the mountain.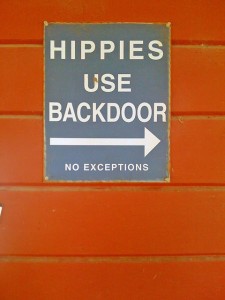 The road past Genessee and along the rim of Indian Valley was rolling, as I had recalled. But I had even less energy today than I did on the way up. I rode up the small hills very slowly, and down the other sides not much faster. It wasn't an annoying road, but I could tell I was in bad shape. I took my time, tried to relax, and limped rather gratefully into Taylorsville. It was now about 10:40am. I had already been riding for 6 hours. I needed a break.
Taylorsville ended up being an oasis, a paradise in an unexpected place. John Hess was still there, still smiling and as helpful as ever. Lorna Belden was in the galley, still cooking breakfasts to order. And Milt Blackmun was running around refilling supplies, checking people in, and doing whatever else needed to be done to take care of the riders. John was ready to make espresso, but I asked him to wait. I needed to eat and rest first. So I had a fine breakfast of pancakes and eggs and fruit, then I lay down for 30 minutes or so, and got up and had another breakfast, this time with french toast. I talked with John for a while, getting updates on other riders, news . . . just little things. Then slowly restocked and double checked and rested some more. And then I was treated to another demitasse of double espresso. It felt so elegant at the time. So refined compared to my ragged state which was anything but refined right then.
It's times like this, when others care for you when you have no real right to expect it, that are so moving. I didn't know how to express how grateful I was, how cared for I felt. I was really touched. And I'm sure fatigue had something to do with it, but it was all I could do not to cry. Not that that would have been so bad. But it's like throwing up. It might be expected under the circumstances, but can be kind of awkward for everyone to deal with.
Next: Taylorsville to Oroville